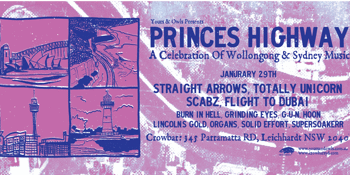 Yours & Owls present
Princes Highway: 'A Celebration Of Wollongong & Sydney Music'
with Straight Arrows, Totally Unicorn, Scabz, Flight To Dubai, Grinding Eyes, Burn In Hell, Lincoln's Gold, Hoon, Solid Effort, Organs, Supersoakerr & G.U.N
Crowbar Sydney (Leichhardt, NSW)
Saturday, 29 January 2022 2:00 pm
Princes Highway: A Celebration Of Wollongong & Sydney Music: is a mini festival from Wollongong based promoters 'Yours & Owls taking place on January 29th at Leichhardt's iconic Crowbar, this show aims to highlight the bands that have ties to both Wollongong and Sydney whether it be attending school, kicking around or currently residing in either city.
With a diverse range of acts playing across every there will be a little something for everyone, whether you're looking for a nice boogie, to throw down in the pit or get some insightful political commentary you'll be covered.

This stacked lineup features some of the best acts going around at the moment:
Straight Arrows
Totally Unicorn
Scabz
Flight To Dubai
Grinding Eyes
Burn In hell
Lincoln's Gold
Hoon
Solid Effort
Organs
Supersoakerr
G.U.N
All of this for only $39.90, what a steal!?!? See you there!!