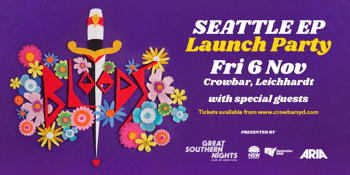 Great Southern Nights, UNIFIED Music Group & Crowbar Sydney present
BLOODS
With special guests
Crowbar Sydney (Leichhardt, NSW)
Friday, 6 November 2020 8:00 pm
Great Southern Nights
In association with
UNIFIED MUSIC GROUP & Crowbar Sydney
presents;
BLOODS
With support TBA
Great Southern Nights is a new event to kick-start the recovery of the live music industry – featuring 1,000 COVID-safe gigs across Sydney and Regional NSW, throughout November 2020 (Australian Music Month). Great Southern Nights is a NSW Government initiative, delivered by Destination NSW in partnership with ARIA. For more information, please visit
greatsouthernights.com.au
.
There's no other city on the planet as synonymous with the 90s as Seattle. And for Marihuzka Cornelius AKA MC, singer, guitarist and songwriter in Bloods, growing up in Western Sydney during that pre-Internet age, it might as well have been another planet. It seemed so far away, so mythic in stature. A sort of paradise, or
nirvana
, where outcasts, misfits and music reigned supreme.
Pouring through rock mags and staying up late watching music videos on
Rage
, trying to catch a glimpse of her flannel-clad rock heroes, it would've seemed unthinkable to teenage MC that one day she'd be standing in a studio in Seattle about to record with her own band.
Not just any studio either, but Jack Endino's Sound House (y'know just the guy who recorded Nirvana's
Bleach
, no biggie), with Steve Fisk on production and mixing duties (yep, the dude who's worked with Soundgarden and Mudhoney) and using the very amp Kurt Cobain played through on his band's debut record. Oh yeah and guess what, teen MC, Cheryl Waters is playing your band on KEXP, your publishing is signed to Sub Pop and your new EP is coming out on Seattle label Share It Music too. TEENAGE MIND BLOWN.
So what do you do when your teenage fantasy becomes reality and the city you've loved from afar starts loving you back? You do what any self-respecting 90s tragic would do and dedicate your EP to it, just as MC and her bandmates Dirk Jonker (drums) and Mike Morgan (guitar, bass and backing vocals) in Bloods have done on their free-spirited EP,
Seattle
.
Finally, Bloods are bringing their Seattle EP to life through this official EP launch party. Playing songs off the EP live for the first time, as well as your favourite older Bloods jams on Friday November 6th, Crowbar, Sydney.
Don't miss these intimate seated shows, tickets are super limited!!!
-------------------------------------------------------------
TICKETING INFO - 18+ event
Please do not attend if you are feeling unwell.
Shows are strictly seated and limited to 75 capacity, where possible please purchase your tickets in groups so you can be seated together. Group bookings over 10 are not allowed. Message us direct to arrange your table group if you have purchased tickets separately.
Please help us stick to social distancing restrictions by returning to your seats after ordering, staying seated through the show and following directions from venue staff.
Crowbar has a COVID Safe Plan in place and will be taking precautionary measures to ensure the safety of patrons,
artists and staff at all times.
Photo ID is essential, closed in footwear must be worn in the venue.