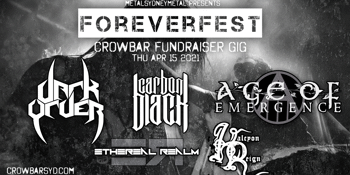 Metal Sydney Metal presents
FOREVERFEST
Dark Order, Carbon Black, Age of Emergence, Ethereal Realm & Halcyon Reign
Crowbar Sydney (Leichhardt, NSW)
Thursday, 15 April 2021 7:00 pm
The music industry was one of the first to be shut down when the Covid pandemic hit our country in 2020, and sadly has been one of the last to reopen. It is therefore no surprise that a lot of our metal venues are now in a position of absolute financial struggle and need our help. Now is the time more than ever to get to gigs, support the bands and also realise how important is it to support those venues who host these wickedly savage events that us metalheads' need in our lives.
Metal Sydney Metal are proud to host Foreverfest, Thursday the 15th of April. This is a fundraising event for the Crowbar Sydney where all proceeds will be going toward the venue in the attempt to help it stay afloat.
A huge thank you to the powerful line up who have selflessly come together to play the stages in support of the Crowbar, in support of our community and our scene.
Dark Order
Carbon Black
Age of Emergence
Ethereal Realm
Halcyon Reign
Grab your mates, grab tickets and come along for a night full of progressive, thrash and heavy metal all to be washed down with a hell of a lot of beers.