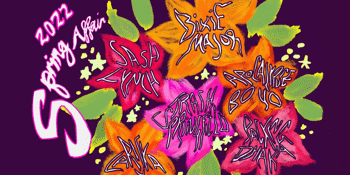 Spring Affair 2022
BIXIE MAJOR, APOCOLYSEBOYO, TRASH SPRINGFIELD, LARISKA, PACKING DHAKA & SASH LYNCH
Crowbar Sydney (Leichhardt, NSW)
Sunday, 9 October 2022 3:00 pm
The second instalment of Spring Affair hits Crowbar showcasing the cream of local emerging talent.

Based in Sydney Australia, the four-piece rock band consisting of Ryan Fitzpatrick (Vocals & Guitar), Harry Drummond (Lead Guitar), Kentaro Morita (Bass) and Ruan Padukone (Drums), are ambitious to spread their infectious energy and immersive music to the world. BIXIE MAJOR formed in 2021 with the intention of being a symbolic institution for good times and rock and roll.
Since starting the Apocalypseboyo project in February 2021 Adam and Joel have been writing tune after tune, expanding their boundaries and refining their style. They have now expanded to a 5-piece band, calling in the extremely talented Alex, Ash and Laura to help further realize their creative vision. With influences from Gorillaz, Tame Impala, MF DOOM, Her's and Errors, Apocalypseboyo combine groovy rap beats with a healthy dose of rock influence.
TRASH SPRINGFIELD are a band led by the front woman of the same name. Trash's raw, honest and sometimes confronting lyrics are balanced by her catchy riffs and unique baritone. After years of performing around Sydney as a soloist, she now has a band together and is in the process of recording her debut album!
PACKING DHAKA are five lads from Sydney blending funk grooves, psych rock, catchy hooks and a pinch of jazz harmony to deliver a unique package of indie/rock. #YKTV
Formed over the Covid divide, teenage obsessions with Paramore and a mutual love for power chords – meet the girl band, who have taken Sydney by storm. LARISKA blend the aftermath of pop-punk and indie-rock with blistering riffs, mouth-watering hooks and a lyrical sensibility, that only frontwoman Emily could wield.
SASH LYNCH is a songwriter and singer from Sydney's Inner West / Gadigal land. He started performing music at a young age and began playing solo shows when he was 18. This year he is performing with his new band, with Nat on bass and Gabe on drums. This gives his songs an energetic and dancey folk-rock sound. With his unique self-taught style, Sash weaves melodies into stories using a blend of surrealism, sorrow, empathy and humour.