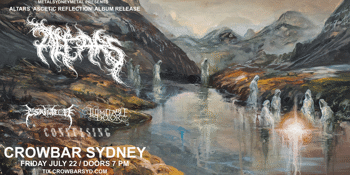 Metal Sydney Metal presents
ALTARS 'Ascetic Reflection' Album Release
with ESKHATON, CONVULSING & ILLIMITABLE DOLOR
Crowbar Sydney (Leichhardt, NSW)
Friday, 22 July 2022 7:00 PM
Bear witness to Ascetic Reflection — the long-awaited return of the Australian death metal entity ALTARS.
Presented live for the first time in its entirety, Ascetic Reflection is an arcane, diverse, and powerfully organic culmination of the renewed trio's efforts. An evolution that reflects and expands upon the sound established by the group's critically acclaimed debut, Paramnesia.
Reflecting outward from its center, the opposing halves of the work form mirrors by which to measure humanity's true face — inverse views of its ouroboric cycles, mortal burdens, and futile lust for power, knowledge, and the divine.
"The dissonant death metal tagline isn't a new one — artists have been aping Gorguts and Ulcerate since those bands appeared — but Altars make it feel fresh and true." — Decibel Mag
"This is the kind of death metal that people can, will, and have waited years for… the exact kind of glory that many of us are constantly looking for out of all that modern death metal has become." — Head-Banger Reviews
ALTARS is joined by performances from Melbourne's chaotic and cyclonic ESKHATON, Sydney's somber doom ILLIMITABLE DOLOR, and the extirpations of CONVULSING.
--
ALTARS
https://altarsdeath.bandcamp.com/
ESKHATON
https://eskhaton666.bandcamp.com/
CONVULSING
https://convulsing.bandcamp.com/
ILLIMITABLE DOLOR
https://illimitabledolorofficial.bandcamp.com/