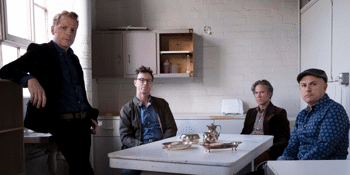 Bluebottle Kiss
With Knievel & Yeevs
Crowbar Sydney (Leichhardt, NSW)
Saturday, 22 October 2022 8:00 PM
Described by All Music as 'challenging, rugged, dramatic rock with folk tendencies woven intricately into its coarse fabric', Bluebottle Kiss were a Sydney based group who existed over a number of line-ups between 1993 and 2007. They released six critically acclaimed albums and countless eps and singles before disbanding in 2007.
Fast forward to 2022 and two of the groups' releases from the 90's (Somnambulist Homesick Blues on Love As Fiction Records and Patient on Come To The Dark Side Luke Music) have been remastered and reissued on vinyl, with Patient being given the deluxe vinyl treatment for the first time.
Of the band during their Patient period, Screamfeeder's Tim Steward recalls "Half the crowd would be totally transfixed, the other half would stand slack-jawed in disbelief; all of them stunned that three guys could muster such beautiful chaos!" Matt Handley of Pollyanna has similar memories "Patient captured so well the ragged beauty of BBK's shows... the intense flailing of Fender vibrato arms, the brittle cutting squalls of their guitars, Jamie's wine soaked vocals, Ben's rich counterpoint on bass, guitar and vocal, Richo's impossibly tasteful drums propelling the songs."
The last quote however, belongs to Ben Grounds, who would join the band as bassist two years after Patient's release, and only months after the trio decided to expand to a quartet after an ill fated US tour: "There's something on reflection that Patient seemed to allow, which was muscle fused with tenderness. It gave you a bear hug whilst whispering comforting advice in your ears. I could never play it too loud."
To celebrate these reissues, the line-up of Jamie Hutchings, Ben Fletcher, Richard Coneliano and Ben Grounds will reconvene for the first time in 20 years. For lovers of noisy yet sophisticated indie-rock, these shows are not to be missed!
Special guests on the night come in the form of the slow burning Knievel. The group perform rarely and are fronted by producer to the stars Wayne Connolly.
Opening the night are cathartic Blue Mountains based trio Yeevs.


This is an 18+ event. Do not purchase tickets or attempt to enter the venue or front bar for this event if you are under 18. All patrons will be required to show NSW Government approved and valid form of ID upon entry.