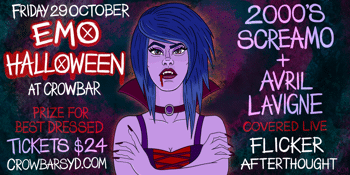 Catastrophe Punk & Emo Nights present
EMO HALLOWEEN
Crowbar Sydney (Leichhardt, NSW)
Friday, 29 October 2021 7:30 pm
Catastrophe Punk + Emo Night presents
EMO HALLOWEEN AT CROWBAR
It has been a rough few months with no live music, but what better way to celebrate it's revival with a Halloween show. We've got bands covering some emo gold, plus original music from Sydney pop punk bands.
-2000's Screamo covers
-Avril Lavigne covers
-Flicker
-Afterthought
-Acoustic emo covers by Vetty Vials
Hear songs from Alexisonfire, Story of the Year, Hawthorne Heights, AFI, The Used and heaps more covered in a massive 2000s screamo set.
Members of various bands from across the scene are teaming up to tribute the Canadian punk princess, Avril Lavigne.
We are incredibly lucky to have Sydney pop punk band Flicker playing their first show in years, back from the dead for a special performance.
Afterthought are releasing their new EP on October 22nd, and are sure to fire through their amazing new material at this gig.
Vetty Vials will be opening the show with a solo set of acoustic punk and emo classics.
Prize for best dressed so make sure you come in costume!
Crowbar Sydney
345 Parramatta Rd, Leichhardt
Limited capacity seated show
**As per NSW Government and Health advice all patrons will be required to show government issued proof of vaccination along with valid ID on entry**