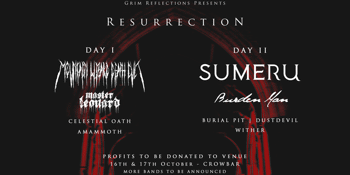 Presented by Grim Reflections & Crowbar Sydney
RESURRECTION FEST 2020
Crowbar Sydney (Leichhardt, NSW)
Fri 16 - Sat 17 October 2020 6:30 pm
Resurrection - A two day gathering to reunite and raise money in aiding the battle against COVID-19. Profits from this event will be donated to CrowBar to help salvage from the tremendous impact this year has had.

2020 has been the year that no one was ready for. The year that no one could have prepared for. Everything has changed and our reality as we know it has been turned upside down.

We've been stripped of much of what we love: Our passions, our ambitions and so many of the places that we call our homes away from home. We've grown a greater appreciation for what we have, the people in our lives and the experiences that – until 2020 – we took for granted. This year has forced us to be with ourselves and acknowledge that much of what we hold dear is fragile, is fleeting. We have seen as side of humanity that no one in existence has witnessed before. The Beautiful and the ugly.

But more importantly we have felt the warmth and strength in the communities that we hold dear. We have watched each other push through the grim and cold grips of isolation to keep our passions burning bright and bring each other comfort. We've supported, inspired and loved in ways that had never been conceived until this year. We've come together in this time of uncertainty and we've seen the potential for change and human growth in the face of dire urgency. There is much to be proud of and there is much to celebrate but there is also much to rebuild.

There is no denying, the devastating and inconceivable damage that the music and entertainment industry has endured at the hands of COVID-19. Venues closed down, festivals & world tours postponed indefinitely and livelihoods lost. Though it is impossible to reclaim what has been taken from us, there is still opportunity preserve what is in front of us. Please join us in celebrating what we still have and keep the fire burning bright.

FRIDAY:
Mountain Wizard Death Cult
Master Leonard
Celestial Oath
Amammoth
+ MORE TBA!

SATURDAY:
Sumeru
Burden Man
Burial Pit
DUSTDEVIL
Wither
+ MORE TBA!


--------------------------------------------------------------
TICKETING INFO - 18+ event
Please do not attend if you are feeling unwell.
Shows are strictly seated and limited to 75 capacity, where possible please purchase your tickets in groups so you can be seated together. Group bookings over 10 are not allowed. Message us direct to arrange your table group if you have purchased tickets separately.
Please help us stick to social distancing restrictions by returning to your seats after ordering, staying seated through the show and following directions from venue staff.
Crowbar has a COVID Safe Plan in place and will be taking precautionary measures to ensure the safety of patrons,
artists and staff at all times.
Photo ID is essential, closed in footwear must be worn in the venue.