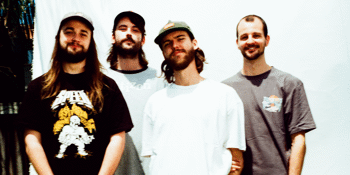 UNIFIED & Village Sounds present
Dear Seattle 'The Someday Tour'
with Stumps, Horror My Friend & Sophisticated Dingo
Crowbar Sydney (Leichhardt, NSW)
Friday, 14 October 2022 8:00 pm
Indie Rock delights, Dear Seattle, have just announced they will be hitting the road for their National album tour Someday later this year, and joining them are Sydney trio STUMPS, along with Horror My Friend and Sophisticated Dingo.
The Someday tour will be happening in September and October 2022, kicking off at Adelaide Lion Arts Factory, then to Perth's The Rosemount, Queensland's Brightside, and The iconic Corner Hotel in Melbourne, before heading home to Sydney's Crowbar in Leichhardt. Tickets can be purchased from the band's website at dearseattle.com.au
Joining the band on tour as one of the main supports are Sydney trio STUMPS, who released their debut album All Our Friends, last year in a crushing love letter to how our environment shapes us, building a loyal fanbase and winning audiences over nationally via their headline shows and festival slots. Similarly, smashing through the block of Australia's indie scene, Horror My Friend are the band that represents heavy-hitting energy, particularly with their seminal album debut Stay In, Do Nothing. The band have toured nationally and internationally with Hockey Dad and DZ Deathrays, Gyroscope, The Cribs (UK), Die! Die! Die! (NZ) and Pity Sex (USA). Joining the big talents are the duo behind Sophisticated Dingo, Jimmy and Lew, the unstoppable Melbourne duo consisting of best mates, who draw on personal experiences and relationships to coin their own brand of nostalgic, hook-driven, and roaring "trash pop".
Today, the band dropped their enticing music video for their latest single "Here To Stay", which grapples with inner turmoil, growing self-doubt and compulsive indecision. The video features live footage of the band writing and recording music for their upcoming album Someday.
WATCH THE MUSIC VIDEO FOR "HERE TO STAY" HERE.
"When I was younger, I never doubted myself. It felt like a had a superpower; like if I set my mind to something and really worked for it, I could somehow always get to where I wanted to be. My brother even used to say that I "walked in the light" because of it. But the last few years have been tough, and I can feel the time slowly chipping away at that confidence. I've started to feel the cracks of analysis paralysis creeping in and a tendency to feel like I've got nothing left of value to offer.
As a musician or a creative, it's so easy to feel like what you're doing doesn't matter or isn't worthy of appreciation, or that your love of being creative is consistently clouded by bullshit like social media and the habitual comparison of yourself to others. It happens to everyone and it can make you want to give it all up. But I've since learnt that if you stop focussing on the ever-moving goalposts you set for yourself, and take the time to look back at what you've really achieved and what you get to spend your time doing as an artist, you'll see the true value of it all. It's easy to miss it in the moment, but it's always there… the passion, the drive, the inspiration, the love, the friendships and the purest form of joy.
Here To Stay dictates my path to that realisation, and the music video acts as a window to it all for others to see what I am referring to. I can't help but smile when I watch it, because it's simply us, doing what we love more than anything. I hope you enjoy it as much as we do." Brae Fisher explains.
SOMEDAY TOUR DATES
General Public On Sale: Tuesday 12th July @ 12:00 pm
ADELAIDE: FRIDAY 23RD SEPTEMBER – LION ARTS FACTORY, SA
PERTH: SATURDAY 24TH SEPTEMBER – THE ROSEMOUNT, WA
BRISBANE: FRIDAY 30TH SEPTEMBER – BRIGHTSIDE OUTDOORS, QLD
MELBOURNE: FRIDAY 7TH OCTOBER – CORNER HOTEL, VIC
SYDNEY: FRIDAY 14TH OCTOBER – CROWBAR, NSW
This is an 18+ event. Do not purchase tickets or attempt to enter the venue or front bar for this event if you are under 18. All patrons will be required to show NSW Government approved and valid form of ID upon entry.