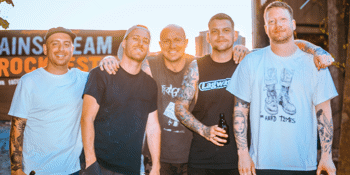 Crowbar Presents, Mountain Goat, The Music and Herschel present:
Comeback Kid (CAN)
With BARE BONES, FANGZ, REACTIONS, BEERWOLF, YEAR OF THE RAT, RAGE & SPITTING TEETH
Crowbar Sydney (Leichhardt, NSW)
Tuesday, 31 December 2019 7:00 PM
Crowbar Presents, Mountain Goat, The Music and Herschel Supply present:
Comeback Kid's 20 Year Anniversary Australian Tour

Originally formed in 2000 in the underground music scene of Winnipeg, Canada, COMEBACK KID have powered through two decades, six full-length international releases, relentless worldwide touring and a bank of big festival shows. With no sign of slowing down or shying away from evolution, COMEBACK KID announce the start of their 20 year anniversary tours hitting Australian shores this December and January.
Taking the intensity from past projects, an influence from 90's skate punk and melodic acts, COMEBACK KID have an energy you can't deny. Mixing heavy, traditional hardcore with catchy melodies and frenzied sweaty live shows.
"We are so psyched to come back to Australia to kick off our year of 20th anniversary shows in 2020. We have a long history of coming to Aussie on different kinds of packages and festivals. This time we are stripping back the layers and our good friends at the Crowbar camp are bringing us over for a NYE show at their new location in Sydney followed by Melbourne and Brisbane! We'll be playing set lists that span over our career as a band and the songs that really mattered over that time. This is a moment we've been waiting for and happy to announce our return! Get us out of this Northern Canadian Winter. See you soon summer!" - Andrew Neufeld CBK
From the group that brings you Crowbar Brisbane and Sydney, see COMEBACK KID celebrate 20 years with support from hard-rock lords BARE BONES, party punks FANGZ, Adelaide's REACTIONS, anthemic punk infused BEERWOLF, Melbourne hell-raisers YEAR OF THE RAT, Central Coast riffers RAGE and heavy 5 piece SPITTING TEETH.
Event page: https://www.facebook.com/events/385167339028977/


Tuesday 31st December - Crowbar Sydney
Friday 3rd January - Stay Gold, Melbourne
Saturday 4th January - Crowbar Brisbane
Tickets on sale now at www.crowbarpresents.com