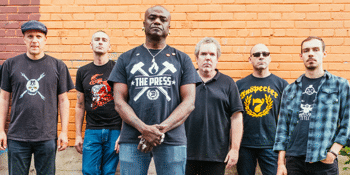 Focus Group Music presents
Mephiskapheles (USA)
The Resignators (VIC), Catbite (USA) & Chris Duke and the Royals
Crowbar Sydney (Leichhardt, NSW)
Sunday, 4 December 2022 6:00 pm
Mephiskapheles, the band that helped define third-wave ska, then defied critics by exploring even greater possibilities with its darkly original ska fusion tour Australia for the very first time.
Formed in the East Village of New York City in 1991 by a group of punk rockers/artists/jazz musicians, Mephiskapheles played its first show on Long Island. From day one, the band began attracting a diverse, dedicated fan base.

Sold-out NYC gigs led to tours with the Buzzcocks and GWAR, and hits on the Hawaiian Islands Chart with three singles from the band's first album.
The Resignators, from Victoria, Australia, are a seven headed brash and boisterous ska punk monster, featuring blistering guitar, thumping bass, melodious keyboards, driving drums and a military like horn section, ready to attack, putting a bomb under the relatively easy, feel-good vibes that are often spun in the genre, with their punk-inflected ska.
Think The Cat Empire mixed with The Clash on a warm summers afternoon on a beach sipping large margaritas, palm trees swaying on the breeze and the sweet sound of rock'n'roll blasting from the car stereo, that's The Resignators.
The Resignators will be featuring tracks from their latest album, Rabbithole, out December 2022.
Also on their first tour of Australia, Catbite is a neo 2 tone ska band from Philadelphia formed in May of 2018.
Influenced by the jolting energy of the Specials, The Selector's edgy lyrics and Elvis Costello's love of melody, Catbite cranks out short catchy tunes that usually have deeper meaning… And sometimes don't