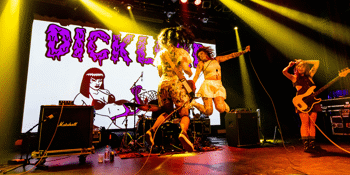 DICKLORD
Crowbar Sydney (Leichhardt, NSW)
Sunday, 7 March 2021 4:00 pm
"What the @#$% was that?! I felt like I had a coffee and then got punched in the face. Can I play Triangle in your band?"*
It's been a while Sydney and Wollongong
but DickLord are finally coming to visit in March!
Brace yourself for some wildness and expect your amazing hair to be ruined.
Striving to keep up to that impeccable standard, DickLord continue to play fast, Aussie punk rock with humour and a few angry stabs just to keep everyone confused and teetering on their toes. A band for everyone, DickLord will make you laugh and fire up simultaneously!
"WOAH that was hectic and weird, I don't know how I feel, can I have a free tshirt?" - Mark, Guttermouth
CROWBAR - Afternoon 4pm- 7pm
plus No Cake & The Darrans
DickLord's debut album release… IT'S SOOOO BORING out now.
And so much much more coming soon.