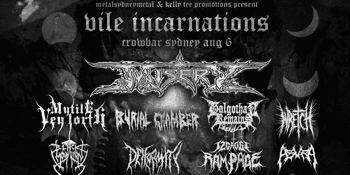 metalsydneymetal & Kelly Tee Promotions present
Vile Incarnations
Misery, Mytile Vey Lorth, Golgothan Remains, Burial Chamber and more
Crowbar Sydney (Leichhardt, NSW)
Saturday, 6 August 2022 5:00 pm
After covid saw the demise of "Bestial Ritesfest", Kelly Tee Promotions & Metal Sydney Metal have re spawn this festival bigger and better in "Vile Incarnations" being held at the Crowbar, Saturday 6th of August 2022.

Headlining a rare performance by Australia's own pioneering death metal band Misery and supported by a stacked local and interstate black and death metal line up Mytile Vey Lorth, Golgothan Remains, Burial Chamber, Wretch, Deiformity, Black Mountain, 12 Gauge Rampage, and Asura.

NO CANCELLATIONS, NO POSTPONING, NO MERCY!